Alert: We Don't Pay Taxes, says Speaker of the House
If this doesn't make your blood boil:
Dennis Hastert does not think that working families pay taxes.

The speaker explained on the House floor that "well, folks, if you earn $40,000 a year and have a family of two, you don't pay any taxes. So you probably if you don't pay any taxes, you are not going to get a big tax cut. Now, if you earn $1 million a year, you are going to pay about $400,000 of taxes. Maybe you'll get a $40,000 tax cut ..."
J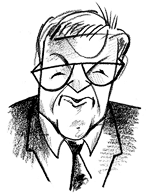 ust to clarify, working families pay federal income taxes, state and local income taxes, Social Security taxes, sales taxes, property taxes, gasoline taxes and most of the other taxes that rich people pay. While some very poor families got a bit of tax relief during the Clinton years, working families of the sort Hastert was talking about still pay more than their fair share.
Pardon me if I assume when you read my blog that you are 1.) living in and of fairly modest means, or 2.) more well-heeled but of the Warren Buffet model of wealth. Either way, you are probably not a pretentious person
.
That said, I don't know about you, but I'm having a hard time of thinking of ANYTHING in my life I don't have to pay taxes or user fee on; even my rent increases are justified by increasing property taxes. Now I have to pay someone else's taxes.
There's the truism of "trickle down economics".
No wonder they want to distract us with the Chicken Little Flu.
But the quote also came from Dennis Hastert, who has openly advocated bulldozing New Orleans, before the thousands of missing have even now to be accounted for. Sure wouldn't want somebody's grandmother's remains to stand in the way of the no-bid buddies, right, Dennis?
I'm getting tired of paying taxes into the United States of Halliburton.
http://www.madison.com/tct/opinion/index.php?ntid=84525&ntpid=0